Grand Hotel Trieste & Victoria
Grand Hotel Trieste & Victoria is one of the protagonist of Abano Terme's history.
Position

Urban Area, Historic Area, Termal

Opening

from mid March to mid January

No. of halls:

3

Plenary capacity

160 seats

Other halls

from 40 to 150

Total bedrooms

220

Spoken Languages

Italian, English, French, German, Spanish, Russian
Receive all the quotes you want by filling out just one form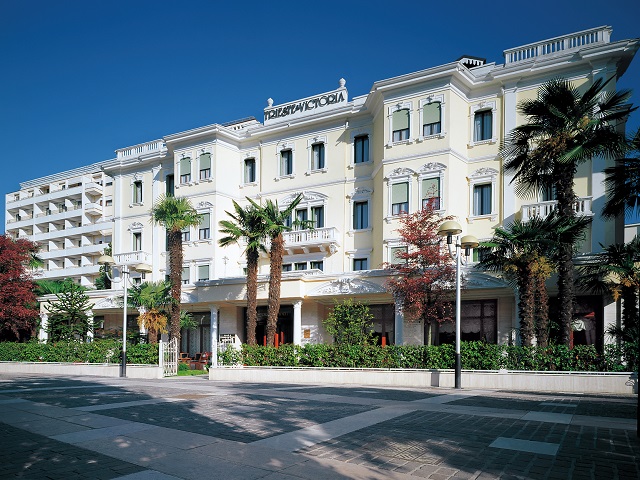 Grand Hotel Trieste & Victoria is one of the protagonist of Abano Terme's history.
Grand Hotel Trieste & Victoria welcome the guests with its Belle Epoque facade and room 110's big terrace dominates the pedestrian are of Abano.
The hall is furnished with original furniture which allows to feel yet today the elegance of a time of this historic luxurious hotel in Abano Terme.
The big park of the hotel surrounds 4 thermal pools and hosts the pavilion where, at the first floor, there are 3 meeting rooms, all naturally enlighten.
You can reach the pavilion also with an indipendent entrance directly from the central square of Abano.
The cuisine is very high class, rich of innovative recipes proposed by the Chef, in order to transform an ordinary business meeting into an unforgettable tasting of perfumes, flavours and colors. Particular attention to the Venetian plates, full of excellent products.
The Secret Bar is famous for its fruit cocktails and for a great variety of cognac and spirits.
In the spare time of the participants the 4 thermal swimming pools offer moments of relax. And the Vita Thermal Spa proposes beauty and wellness treatments to more satisfy the needs of the clients.
For  more than one day meetings, the hotel can organize tours in the surrounding cities, very appreciated especially when the participants arrive with their partners.
Spaces
Halls

3

Plenary capacity

160

Other halls

from 40 to 150

Exibition area

mq 100

Park/Garden

Terraces

Disabled accessibility
NOTES:
Rooms with access for disable people.
Rooms equipment: blackboard with mobile and fixed papers, audio and video systems, video projector, microphone, amplifiers.
Stockroom. Internet Point, Web Corner.
Parking: capacity of indoor garage with fee (€3per day): 40
Outdoor parking lot for free: 85
Unsupervised outdoor parking.
Wi-Fi with fee.
Services
WiFi

Broadband connection

Secretariat

Wardrobe

Storage

Car parking for

125
NOTES:
Hostess and interpreters.
Meeting rooms
Tempio del Benessere


mq 186
Theater

160

Classroom

80

Dinner/Tables

160

Buffet

160
Victoria Club


mq 230
Theater

150

Classroom

80

Dinner/Tables

150

Buffet

150
Sala Trieste


mq 59
Theater

40

Classroom

32

Dinner/Tables

40

Buffet

40
Restaurants
Restaurants

1

N° Seats

350

Buffet

350

Bar

2
Bedrooms
Bedrooms in total

220

Suites

54

Disabled accessibility
Amenities
Outdoor swimming pool

Gym

SPA
NOTES:
Air Condition, hari dryer, safe, balcony, minibar, telephone, swimming pool towels, accappatoio, Wi-Fi, digitale terestre.
Vital Thermal SPA with beauty farm, rejuvinating, detoxing, energizing treatments. 4 thermal pools with salso water - regulated with bromo jodica in different temperatures from 27 to 30 degrees depending on the season.
---
Distances
Airport

VCE - Venezia Marco Polo - 60 Km

TSF - Venezia Treviso S. Angelo - 76 Km

Highway

A4, Exit Padova Ovest - 15km
A13, Exit Terme Euganee - 6km

Rail Station

Montegrotto Terme (Terme Euganee) - 5,5km
Padova Centrale - 13km

City

Venezia - Venice - 54 Km
Padua - 12 km

See Also
Torreglia (PD) - Veneto
Historical Mansion
Plenary capacity: 160
No. of halls:4
Venezia (VE) - Veneto
Congress Centre / Multipurpose Area
Plenary capacity: 240
No. of halls:12
Total bedrooms: 173
Castelnuovo del Garda (VR) - Veneto
Hotel 4 stars / Congress Centre
Plenary capacity: 280
No. of halls:5
Total bedrooms: 247
Quinto di Treviso (TV) - Veneto
Hotel 4 stars S / Congress Centre
Plenary capacity: 1300
No. of halls:13
Total bedrooms: 133