Next to Gardaland Theme Park, this Resort offers 5 meeting halls and a restaurant.
Position:

Countryside

Opening:

From April to October - From December to January

No. of halls:

5

Plenary capacity:

280 seats

Other halls:

from 40 to 170

Rooms:

279

Spoken Languages:

Italian, English, French, German, Spanish
Receive all the quotes you want by filling out just one form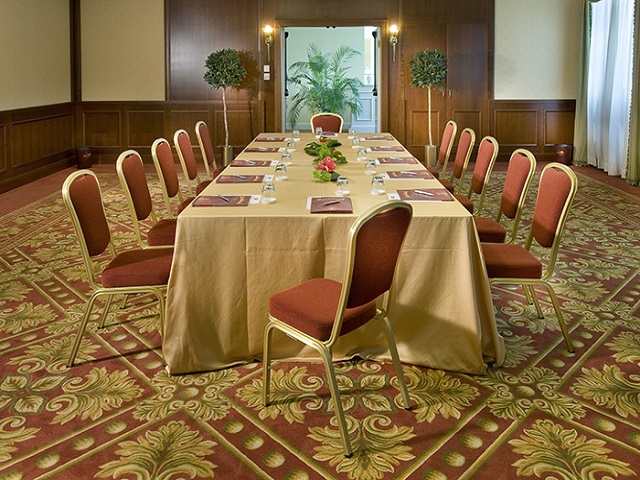 Description
Next to Gardaland Theme Park, this Resort offers 5 meeting halls.
Gardaland Resort is a four star hotel located just 800 meters from Gardaland Theme Park. It is the ideal location for unconventional meetings and events. Four fairy-tail pavilions bordering a charming inner garden, 247 comfort rooms and 32 themed rooms to make your stay to be unforgettable.
A very original touch for your business lunches and dinners at Wonder Restaurant. It is possible to have dinner within the best Theme Park in Italy settings, for unforgettable evenings.
The Hotel displays 5 modular meeting rooms and thanks to the care in realizing each event, it's the ideal place to set business meetings.
Gardaland Team Factory is at disposal to involve guests within Gardaland Park. Gardaland Team Factory will take care of everything, from the design to the accomplishment of the entire event, in order to give an amazing experience to the attendees.
The Hotel displays 2 fine restaurants, 3 bars and a pool and solarium area, for relaxing moments after a day of work.
Gardaland can be the ideal location for meetings of any dimension, always managing to turn them into successful events.
See Also
Lido di Jesolo (VE) - Veneto
Restaurant
Plenary capacity: 250
Venezia - Venice (VE) - Veneto
Hotel 5 stars / Congress Centre
Plenary capacity: 900
No. of halls:14
Total bedrooms: 379
Venezia - Venice (VE) - Veneto
Congress Centre / Multipurpose Area / Historical Mansion
Plenary capacity: 240
No. of halls:11
Total bedrooms: 173
Mira (VE) - Veneto
Historical Mansion / Multipurpose Area
Plenary capacity: 99
No. of halls:6