Castello e Parco di Masino – FAI
This Castle, FAI property, ancient residence of the Earl of Valperga, offers its charming frescoed halls and its nineteenth-century park for events, dinners and business meetings.
Position

Out of town, Countryside

Opening

All year round

No. of halls:

5

Plenary capacity

180 seats

Other halls

from 50 to 140

Spoken Languages

Italian, English, French
Affiliations: FAI – Fondo Ambiente Italiano
Receive all the quotes you want by filling out just one form
Over a thousand years of history surrounded by a nineteenth-century park, overlooking the stunning Morainic Amphitheatre of Ivrea, picturesque corner of Canavese area.
Antique residence of the Valperga Earls, descendants of Arduino, the first King of Italy, the castle passed on the charm of a glorious past that lives on today in the sumptuous halls, where the valuable furnishings and rich decorations are still preserved intact.
Five striking event spaces including the circular Grand Ballroom, a large and airy space with its refined frescoes in trompe-l'oeil that seem to break through in all directions the boundaries of the room.
In the "English" park, dating back to the first half of the nineteenth century, you can enjoy all the charm of the Romantic period, the walkways, the abundant spring blooms and the little neo-Gothic temple. The park also preserves an amazing labyrinth of hedges, the second largest in Italy.
Companies and privates may organize:
– private events, exclusive lunches and dinners
– business meetings, conventions and team building
– books presentations e products launches
– concerts
– film sets and photo shoots
– civil or religious marriages (church inside)
FAI properties nearby: Flecchia Villa and Collection in Magnano (Biella), Manta Castle, Cuneo.
Places of interest in the surroundings: Ivrea, Turin, Agliè Castle, Serra Regional Wine Cellar, Consorzio Erbaluce, Roppolo Castle, Caluso Regional Wine Cellar, Viverone Lake, Serra Morenica, via Francigena.

Photos ©: Dario Fusaro, Mauro Ranzani.

The atmosphere of a king's palace is still alive in the halls of this magnificent millenary manor, inhabited for ten centuries by the Counts Valperga dynasty. The circular ballroom, trompe-l'oeil painted, dominates the Ivrea plain up to the Alps.
Built with military purposes in XIth century by the Valperga family, descendants of King Arduino. During the sixteenth century renovation works transfomed the castle into a noble residence. Proofs of all ages can be seen also today.
In the area of "Canavese" there are about twenty castles within a few kilometers. From the ancient fortifications up to the manors of the sixteenth century. The area is 50 km away from Turin and 100 from Milan.
Spaces
Halls

5

Plenary capacity

180

Other halls

from 50 to 140

Exibition area

mq 15000

Park/Garden

Terraces
NOTES:
Outdoor parking.
Choise of 7 caterings.
Exhibition area: Pratone Eufrasia
Outdoor spaces:
-Terrazzo dei limoni: dinners for 300 persons and buffet for 500 persons.
-Terrazzo degli oleandri: dinners for 200 persons and buffet for 300 persons.
-15,000 sqm park may hosts shows for 8,000 people.
-Courtyard of the Palace of Carriages, 210 sqm, may hosts buffet for 100 people.
Services
WiFi

Broadband connection

Car parking for

80
Technologies
NOTES:
Storage may be provided in the areas next to the rented halls.
Audio system with microphone and speakers, projector and towel 2x2, plasma 42".
Free Wi-Fi.
Meeting rooms
Salone Marchesa Vittoria


mq 200
Theater

180

Dinner/Tables

160

Buffet

196
Salone degli Stemmi


mq 120
Theater

140

Dinner/Tables

110

Buffet

140
Restaurants
NOTES:
On the outdoor:
-Terrazzo dei limoni dinnrs from 300 people to 500 buffet
-Terrazzo degli oleandri dinners from 200 persone to 300 people - buffet
-The 15.000 mq park can host shows until 8.000 people
-The courtyard of Palazzo delle Carrozze, 210 mq, can welcome 100 people with a buffet.
Possibility to choose 7 conventioned catering.
---
Distances
Airport

TRN - Torino Caselle - 50 km

MXP - Milano Malpensa - 90 km

Highway

A4 Milano-Torino - svincolo per IVREA-AOSTA - uscita ALBIANO DI IVREA - 5km
A4 Torino-Milano - uscita BORGO D'ALE - 7km
Autostrada Torino-Aosta - uscita SCARMAGNO - 12km
Da ogni uscita seguire le indicazioni FAI CASTELLO DI MASINO.


Rail Station

Ivrea - 16 km
Santhià - 27 km

City

- Turin - 50 km
Milan - 100 km

See Also
Manta (CN) - Piedmont
Historical Mansion
Plenary capacity: 300
No. of halls:4
Serralunga d'Alba (CN) - Piedmont
Hotel 5 stars L
Plenary capacity: 190
No. of halls:2
Total bedrooms: 39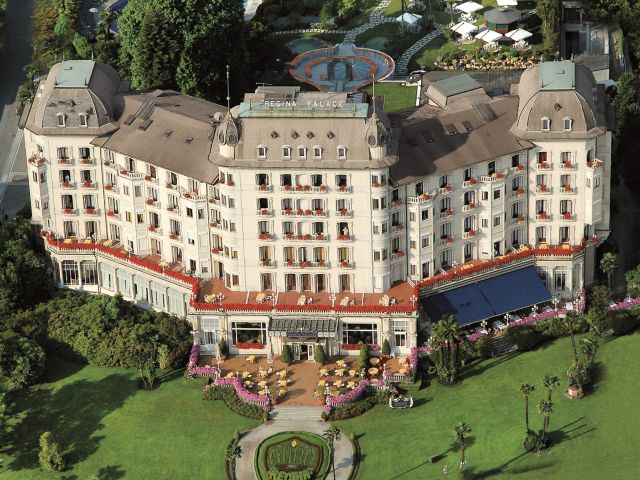 Stresa (VB) - Piedmont
Hotel 4 stars
Plenary capacity: 600
No. of halls:20
Total bedrooms: 224