Leolandia Minitalia: an ideal amusement park for corporate events, team building, photo shoots.
Position

Out of town

Opening

From mid March to mid November

No. of halls:

6

Plenary capacity

500 seats

Other halls

from 24 to 120

Spoken Languages

Italian, English
Receive all the quotes you want by filling out just one form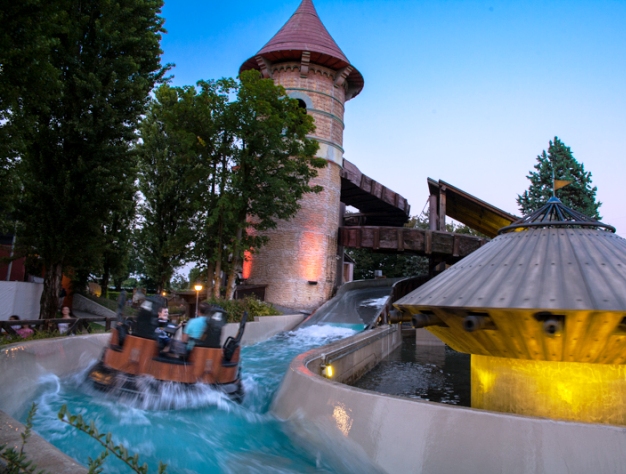 Leolandia Minitalia: ideal amusement park for corporate events, team building, photo shoots.
Since 45 years Leolandia (until 2014 known as "Minitalia Leolandia", winner of many awards), is the largest amusement park in NorthWestern Italy and an appealing and original location for corporate events. It is 30 minutes away from Milan and 10 minutes from Bergamo. And it is located closeby the Capriate Exit of the A4 Milan – Venice highway.
The park facilities, renovated in 2015, are built around the "historic" core of Minitalia and offer 39 attractions, distributed in six thematic areas located in a 200,000 square meters green oasis.
Leolandia offers suitable solutions for every kind of meeting, besides the possibility to create unique and customized post-conference events.
Its large and modern spaces are perfect for:
• Exclusive events, lunches and dinners
• Corporate meetings, conventions, weddings, birthdays and team building
• Presentation of books and product launches
• Photo shoots and movie sets
Leolandia has a large private parking.
The team of Leolandia is at your disposal to offer an impeccable and personalized service, ensuring quality and professionalism.
Services offered:
• Organizational support, graphic design, press office, assistance from qualified personnel for welcoming activities and logistics
• Customized entertainment, from restaurants with ad hoc menus to live shows
• Team building activities targeted to specific needs
• Special rates for the stay at nearby hotels
Leolandia is also the perfect location to reconcile corporate events with moments of fun for all the family.
Awards
Parksmania Awards
Season 2007/2008 - Special Awards Minitalia Leolandia for best business initiative
Season 2009 - Special Initiative: Halloween 2008 Minitalia Leolandia
Season 2010 - Best Staff: Minitalia Leolandia - Best Website: Minitalia Leolandia
Season 2011 - best park of the year: Minitalia Leolandia
Season 2012 - Best Staff: Minitalia Leolandia
Season 2013 - Best Attraction for the Families: Peppa Pig Area Minitalia Leolandia - Best Staff: Minitalia Leolandia
Season 2014 - Best Staff: Leolandia
Season 2015 - Best Attraction for Families: Peppa Pig Area Leolandia

Tripadvisor
Excellence Award 2012
Excellence Award 2015

Travellers'Choice™ - Top 10 amusement parks in Italy
3rd place for the Attractions Awards 2014
2nd placefor the Attractions Awards 2015

2017 Travellers'Choice™ - 1st in Italy, 7th in Europe and 23rd in the world
Leolandia is strategically located and easy to reach: 30 minutes from Milan and 15 minutes from Bergamo Orio al Serio airport. The park is two minutes away from the A4 Milan-Venice highway - Capriate exit
LEOrienteering is an exclusive recreational-sporting format, integrated with the park attractions and aimed to stimulate problem solving skills. The offer can be customized to meet the client's needs and the meeting purpose.
The most important amusement park in Lombardy: 200.000 sq. m. (almost 3 hectares), 6 thematic areas and 39 attractions. Famous for Minitalia, a 27.000 sq. m. scale model of the Italian Peninsula, seas and 160 monuments included.
Spaces
Halls

6

Plenary capacity

500

Other halls

from 24 to 120

Park/Garden

Terraces
NOTES:
Extra charge for Wi-Fi
Services
WiFi

Secretariat

Car parking for

4000
Meeting rooms
Sala Verde


mq 286
Theater

120

Dinner/Tables

120
Restaurants
Restaurants

5

Seated dinner for

440

Buffet

700

Bar

1
---
Distances
Airport

BGY - Milano Bergamo Orio al Serio - 15 km

LIN - Milano Linate - 35 km

MXP - Milano Malpensa - 75 km

Highway

A4 Torino - Venezia exit Capriate distance 1 km

City

Bergamo - 18 km
Milan - 35 km
See Also
Casalzuigno (VA) - Lombardy
Historical Mansion
Plenary capacity: 100
No. of halls:5
Milano (MI) - Lombardy
Congress Centre / Multipurpose Area
Plenary capacity: 2800
No. of halls:6
Milano (MI) - Lombardy
Hotel 4 stars
Plenary capacity: 250
No. of halls:10
Total bedrooms: 307
Varese (VA) - Lombardy
Historical Mansion / Museum/Gallery
Plenary capacity: 100
No. of halls:3