Elegant enviroment, refined atmosphere, high quality services, walking distance from Milan
Position:

Urban Area

Opening:

All year round

No. of halls:

8

Plenary capacity:

500 seats

Rooms:

147

Spoken Languages:

Italian, English, French, German, Spanish
Receive all the quotes you want by filling out just one form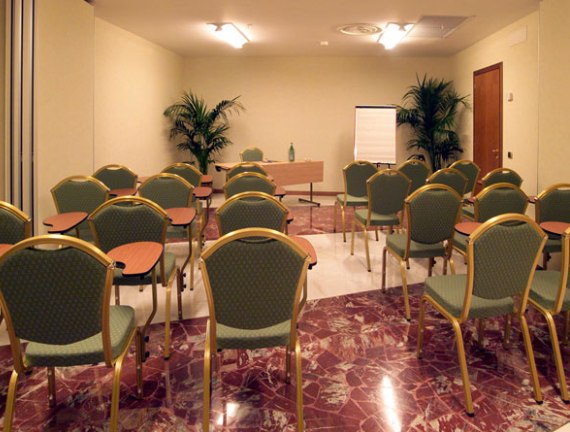 Description
Elegant enviroment, refined atmosphere, high quality services, not so far from Milan
That's all it takes to turn a hotel stay into an unforgettable experience… just a stone's throw from Milan!
Ours is an old-fashioned service, characterized by our constant but yet discreet presence and by the attention we pay to each customer's need. The functionality of our conference halls, the high quality of the catering and the ability of our staff to ensure the success of any event make the Grand Hotel Barone di Sassj Convention Centre a landmark of the highest level.
The broad Foyer, is ideal to organise product launches, road-shows and expos; it is the ideal location for hospitality desks, coffee breaks, cocktails and delicious buffets for events organized in our halls.
The meeting hall Ballroom Valadier has a capacity of 500 people, but it can also be reduced in its dimensions to host smaller events. With its direct access to the garage, the hall has a big backstage, made up of three rooms and dedicated services and an advanced control room.
For small and medium meetings the Hotel offers 4 meeting rooms, 3 breakout rooms with direct access to the Foyer. They are modular, soundproof and technologically equipped. 1 room with natural light.
See Also
Bellagio (CO) - Lombardy
Hotel 5 stars L / Historical Mansion
Plenary capacity: 300
No. of halls:5
Total bedrooms: 95
Milano (MI) - Lombardy
Multipurpose Area
Plenary capacity: 70
No. of halls:5
Total bedrooms: 16
Milano (MI) - Lombardy
Hotel 5 stars
Plenary capacity: 35
No. of halls:2
Total bedrooms: 58
Milano (MI) - Lombardy
Hotel 4 stars
Plenary capacity: 500
No. of halls:5
Total bedrooms: 106