Unique Al Palatino Garden Restaurant – Kolbe Hotel Rome
The restaurant of Kolbe Hotel Rome, 4-star hotel in Rome's city centre. Italian cuisine. Vegetarian, vegan and gluten-free menus on request.
Position:

Urban Area, Historic Area

Opening:

All year round

Spoken Languages:

Italian, English, Spanish, Russian
Receive all the quotes you want by filling out just one form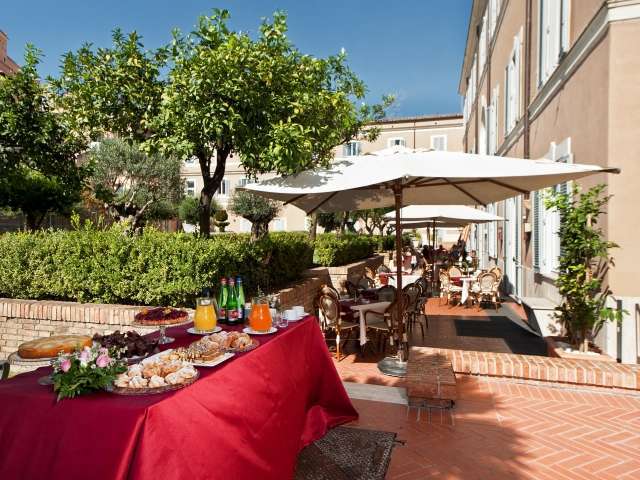 Description
The Unique Al Palatino Garden Restaurant is located in the oldest part of the ancient palace that houses the Kolbe Hotel Rome. Its 17th-century vaulted ceilings create a charming and welcoming atmosphere.
The restaurant overlooks the hotel's magnificent private garden, full of blooming trees, olive trees, and centuries-old citrus trees – the perfect place to relax after a long day and enjoy the amazing Roman sunsets.
The splendid 250-seat panoramic terrace overlooking ancient Rome is also available for special events (on request).
The restaurant can seat 120 guests and accommodate 160 people for buffets and cocktails.
Unique Al Palatino Garden Restaurant's specialty is to always have traditional recipes on the menu. The chef has a particular care in offering guests all the flavor of traditional dishes for those looking for an "all-Italian" experience at the table.
Some examples: from Parma ham to eggplant millefeuille, to the salad with smoked swordfish for starters. As first courses: tagliolini with cheese, pepper and shrimps marinated in lime, lasagna and buffalo ravioli. Among second courses: the typical Roman saltimbocca, fish and meat and codfish Mediterranean style. Of course, in the menu dessert, the classic tiramisu.
These are the most popular and appreciated dishes especially during meetings with international participants. They also have great success with Italian gourmets who want to rediscover the flavours of true Italian cuisine.
Gluten-free, vegetarian and vegan menus are available on request.
European politicians such as José Barroso, Jean-Claude Juncker, Martin Schulz and Donald Tusk have all been guests of Unique Al Palatino Garden Restaurant.

Kolbe Hotel Rome is a 4-star hotel in Rome's city center, right next to the Roman Forum, the Colosseum, the Circus Maximum and other historical attractions. 72 bedrooms and 19 meeting rooms.
See Also
Roma - Rome (RM) - Lazio
Hotel 4 stars / Congress Centre
Plenary capacity: 120
No. of halls:19
Total bedrooms: 72
Roma - Rome (RM) - Lazio
Hotel 5 stars L
Plenary capacity: 2100
No. of halls:25
Total bedrooms: 370