Duse Theatre is one of the historical theaters of the city of Bologna. It is located in Palazzo del Giglio, where in the '600 the Theatre of S. Saverio was active.
Position:

Urban Area, Historic Area

Opening:

from September to May

No. of halls:

3

Plenary capacity:

999 seats

Other halls:

from 30 to 80

Spoken Languages:

Italian, English
Receive all the quotes you want by filling out just one form
Description
During the XVII century it was renovated several times, and since that moment it hosted all theatrical genres, from puppets to circus art, opera, operetta, concerts and especially prose.
It was named to Eleonora Duse in 1898, when the great actress was only 40 years old and she was at the peak of his career. Something rare.
Duse Theatre is a unique and fascinating location for its architecture and its history, it is located in the historic center of Bologna next to the two towers, Piazza Maggiore and a few minutes walking from Morandi Museum. Since many years, it is one of the most important prose theaters in Italy and it is considered one of the main cultural references of the city.
The Sala Grande, with 999 seats and an area of 1.000 sqm, is on three levels: the theater (481 seats) and two rows of galleries and stages (297 and 221 seats). It is possible to rent it entirely or only a part.
The stage is 14 meters in width, 13.50 meters in depth and 12,20 in height. The proscenium is 11 meters wide and 8 meters high.
Wide spaces are available for breaks, workshops and friendly moments: the Foyer (named to Gino Cervi), 2 bars, 2 cloakrooms and other areas and halls dedicated to caterings, exhibitions, meetings and private events.
Duse theatre is suitable not only for big business events, but also for small meeting, conferences, product presentations, screenings, fashion shows, gala dinners and shootings.
Photos: Massimo Donati.
See Also
Riccione (RN) - Emilia Romagna
Congress Centre / Multipurpose Area
Plenary capacity: 1400
No. of halls:10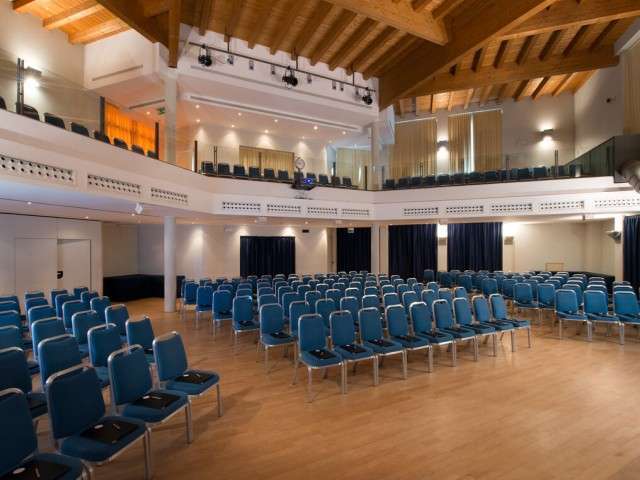 Parma (PR) - Emilia Romagna
Hotel 4 stars S / Congress Centre
Plenary capacity: 400
No. of halls:14
Total bedrooms: 166
Salsomaggiore Terme (PR) - Emilia Romagna
Congress Centre / Historical Building
Plenary capacity: 650
No. of halls:15
Rimini (RN) - Emilia Romagna
Hotel 5 stars L / Congress Centre
Plenary capacity: 350
No. of halls:14
Total bedrooms: 168