A building of great design in the heart of Riccione, close to Rimini. Modular meeting rooms that can accommodate 40 to 1400 guests and a terrace suspended between Sky and Sea.
Position:

Urban Area, Seaside

Opening:

all year round

No. of halls:

10

Plenary capacity:

1400 seats

Other halls:

from 40 to 600

Spoken Languages:

Italian, English, French, Spanish
Receive all the quotes you want by filling out just one form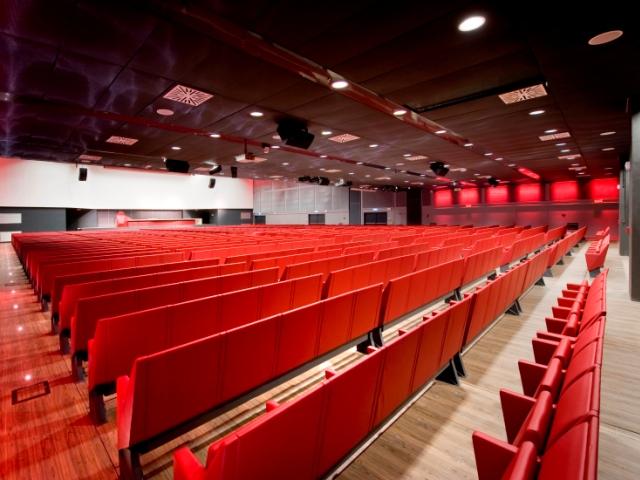 Palariccione is a shining and majestic glass and steel congress center located in the city centre of Riccione. Four levels, plus a partly-covered panoramic terrace suspended between the Sky and the Sea: "Riccione City Eye", a space dedicated to conviviality and amazement, that adds a touch of Romagna warmth to the traditionally serious image of Convention Centres.
Opened in 2008 and designed by architects Alessandro Anselmi, Carlo and Piero Gandolfi, and Studio Passarelli, Palariccione is an urban convention centre, located in the heart of Riccione, where everything is within walking distance: hotels, restaurants, boutiques, parks, cycle lanes, and the spectacular boardwalk.
Being so close to Riccione's city centre, accommodating guests in hotels becomes really easy. There are 45 hotels, including 18 4 or 5-star hotels, within 500 m, offering a total of 800 rooms. And within 1 km, 136 hotels, including 34 4 or 5-star hotels, with a total of 1600 rooms.
On the ground floor, Palariccione hosts a multiplex cinema and a shopping area with elegant and trendy boutiques.
On Level 1, the conference reception hall, with registration desks, coatroom, café, relax area.
On Level 3, Concordia Plenary Room: 1800m² of empty space that can quickly turn into a furnished 1400-seats auditorium thanks to an innovative retractable seating system (patented by Poltrona Frau).
On Level 4, a huge foyer and 4 modular rooms:
– Polissena Room, with a capacity of 608 people;
– Ginevra, Violante and Costanza Rooms (80 people each), with a retractable wall system that can increase or decrease their seating capacity in a few minutes.
On Level 5, Riccione City Eye, with a 585m² (280m²+305m²) catering area + 250m² outdoor area. A fantastic and unique location for parties, wedding and other events.
Palariccione's young and dynamic staff provides a professional and precise service: planners are never left alone, but they are always taken care of and helped by event managers, even when planning outside activities. We are committed to facilitating event planners' job.
Riccione and the Riviera Romagnola offer many attractions: Oltremare Amusement Park, Aquafan Water Park, Aquarium of Cattolica (13 km), Castle of Gradara (15 km), San Marino (23 km), Viserba's miniature theme park (27 km), San Leo (44 km), Urbino (46 km).
And so much more.
Among the companies that have chosen Palariccione for their events: Allianz-Ras – Beghelli – Bosch – Canon – Cisco – L'Oreal – Nike – Novartis – Red Bull – Roche – Saint Gobain – Smart – Wella…
Awards
March 2017 - FCE Awards; award in innovation and creativity in meeting planning by Federcongressi&eventi
Spaces
Halls

10

Plenary capacity

1400

Other halls

from 40 to 600

Exibition area

mq 727

Terraces
NOTES:
- The plenary room can be turned into an empty space thanks to its retractable seating system. It can also be equipped with a
central stage
(ring)
- 727m² exhibition area right next to the plenary room
- All rooms on Level 4 are modular, with retractable soundproof walls and a 250m² foyer
- Riccione City Eye, Palariccione's huge terrace, serves as a catering and partying area. 585m² of covered space, 250m² of open-air space with sea view
- Total space: 3,000m²
- Seated lunch for up to 2,000 people
Services
WiFi

Broadband connection

Secretariat

Wardrobe

Storage

Catering area

Power capacity

1500 Watt

Car parking for

100
NOTES:
-
Event Manager for the entire duration of the event
- Assistance with legal documents for public space occupation
- Assistance in the search of specialised staff
- Blueprints (.pdf or .dwg) of the facility
- Allotment management and customised online booking
- Broadband connection (100mbps)
- Underground garage for up to 100 cars. Arrangements with garages nearby (max. 500m away)
Technologies
Lights with director's console

Audio with director's console

Video with director's console

Simultaneous translation

Streaming

CCTV
Meeting rooms
Sala Concordia


mq 1100
Theater

1393

Height

8.9 mt
Disabled accessibility

Service areas

727 mq
Sala Polissena


mq 580
Theater

608

Height

4.1 mt
Disabled accessibility

Service areas

250 mq
Sala Violante


mq 93
Disabled accessibility

Service areas

250 mq
Sala Ginevra


mq 93
Disabled accessibility

Service areas

250 mq
Sala Costanza


mq 93
Disabled accessibility

Service areas

250 mq
Restaurants
Banquet halls

Seated dinner for

2000

Outside buffet

700

Bar

1

Catering
---
Distances
Airport

BLQ - Bologna G. Marconi - 120km

Rail Station

Riccione - 150m (walking distance)

Highway

A14 Exit RICCIONE - km 3

City

- SAN MARINO 23km
- URBINO 46km
- RAVENNA 74km

Dear meeting planner...
Dear Planner,
if our beautiful venue has captured your interest, and if you're a bit intrigued by our enthusiasm, we would be extremely glad to host your events.
As you've probably noticed, we are able to host any kind of event, from corporate meetings to weddings, from parties to team building activities, to large conventions. Why? Because Palariccione is a very special convention center — it's beautiful, bright and modern. Moreover, unlike other venues, that are often located in the middle of nowhere or in the suburbs, Palariccione is right in the heart of Riccione and is therefore close to everything you could possibly need and ask for: hotels, shops, tourist attractions, and, obviously, the beach. This is what makes us different, and perhaps unique.
Another pride of ours is the "human element": all our staff are passionate, receptive and professional, eager to make (and help you make) a good impression on your guests, and honor Emilia Romagna's great hospitality tradition.
If you'd like to pay us a visit and inspect our facility yourself, feel free to contact me: you'll be welcomed with open arms.

Laura Colonna, Head of Sales
See Also
Reggio Emilia (RE) - Emilia Romagna
Hotel 4 stars
Plenary capacity: 400
No. of halls:12
Total bedrooms: 91
Rimini (RN) - Emilia Romagna
Hotel 5 stars L / Congress Centre
Plenary capacity: 350
No. of halls:14
Total bedrooms: 168
Reggio Emilia (RE) - Emilia Romagna
Hotel 4 stars
Plenary capacity: 66
No. of halls:2
Total bedrooms: 51