Marinagri is a 5-star hotel and resort on the sea surrounded by a 300-hectare Natural Reserve.
Position:

Out of town, Seaside

Opening:

From March 31st to November 4th, 2018

No. of halls:

4

Plenary capacity:

350 seats

Other halls:

from 6 to 120

Rooms:

95

Spoken Languages:

Italian, English
Affiliations: Greenblu
Receive all the quotes you want by filling out just one form
Description
Marinagri Hotel & SPA is a 5* resort facing the sea. Private dockyard. Natural reserve. Two restaurants.
Marinagri is a 5-star resort arose from the architectural and intrepid project of a very environment respectful Marinagri village. Beyond the hotel, it also includes villas and apartments.
The white structure of the hotel faces directly the sea and it is surrounded by an exclusive area of 300 hectares of the Natural Reserve between the Agri's mouth and the long sandy uncontaminated beaches of the Ionio Sea. In the Reserve pink flamingos, herons, hundreds of marine species live free and every year at the beach you can assist the turtle's eggs hatching. You can ride a bike or walk through the 40 km internal path of the Reserve which can offer a good opportunity of orienteering and teambuilding activities.
Marinagri offers 95 rooms, 4 meeting rooms, a private shipyard and closeby there is a 500-places harbor, that allows leaving directly from the hotel for trips or team building activities on the sea.
All the meeting rooms are equipped with the most advanced audiovisual devices and Marinagri expert team will provide professional support for personalized solutions.
For the guests who want an independent solution, some villas and apartments are available on small islands and peninsulas connected with small and picturesque bridges or facing the private beach of the resort.
For lunch, dinner, happy hour Marinagri has the Restaurants Luna, with local and Italian cuisine and pool view.
And after a day of work, besides the pleasure of a dive in the sea, also Aqua SPA offers massages and facials and body treatments.
Available also: all water sports (water ski, windsurf, kitesurf), tennis courts, football, beach volley.
Excursions by bike or by horse (horses and pony).
Possibility of boat excursions that directly leaves the resort's harbor and to organize fishing trips at the lagune or sea.
Team building and orienteering in the Natural Reserve by bike or on foot.
For particular settings, the expert team of Marinagri offers a professional collaboration that allows finding customized solutions for every event.
Marinagri is a property of Greenblu Hotels & Resorts, which also manages:
– in Basilicata the 4-star Argonauti Hotel Sea Life Experience on the sea, and the fascinating Aquatio Cave Luxury Hotel & SPA, in the Sassi of Matera
– in Puglia (Apulia) the 5-star hotel Borgobianco Resort & SPA in Polignano, the 4-star hotel and village on the sea Torre Cintola Natural Sea Emotions in Monopoli, and the 4-star Cavaliere Urban in Noci
All hotels have meeting rooms.

See Also
Marina di Pisticci (MT) - Basilicata
Hotel 4 stars / Congress Centre
Plenary capacity: 400
No. of halls:7
Total bedrooms: 220
Matera (MT) - Basilicata
Hotel 5 stars
Plenary capacity: 50
No. of halls:1
Total bedrooms: 20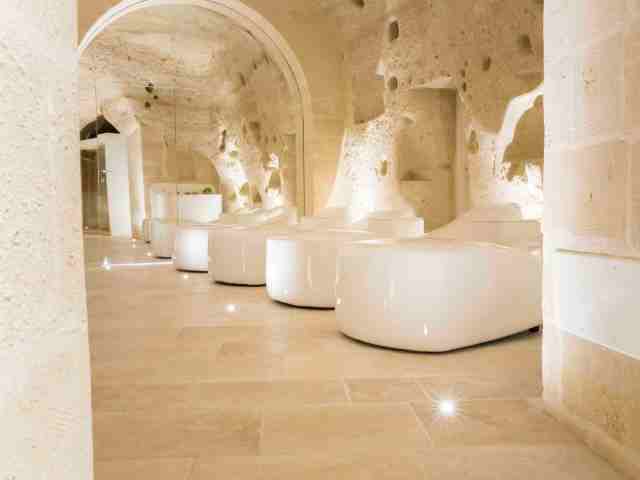 Matera (MT) - Basilicata
Hotel 5 stars
Plenary capacity: 50
No. of halls:1
Total bedrooms: 35