Spettacoli.Pro
Entertainment/Free time
Operating in: Whole Italy
Spettacoli.Pro organizes shows and events for companies or individuals and provides training in business events.
Company profile
Spettacoli.Pro organizes shows and events for companies or individuals and provides training in business events.

Spettacoli.Pro is a company based on the experience of two professionals in the show business:
– Patrick Contarini manager of Italian comedians actors
– Valentina Rinaldi, specialized in designing and producing huge private and public shows and events.
Spettacoli.Pro also offers amusing corporates training in business meetings.
Thanks to the founders' know-how and experience, the company is working also for television.
EXPERIENCE AND SPECIALIZATION
Patrick Contarini and Valentina Rinaldi operate in the show business for years.
Up to 2019 Spettacoli.Pro realized more than 200 shows every year around Italy, including in the islands.
This experience allowed Spettacoli.Pro to be able and reliable in creating private or business events by supporting small and big companies.
Clients
Marcegaglia - Helvetia Assicurazioni - BCC - Adecco - Sony - Nissan - Procter & Gamble - Sara Assicurazioni - ASI (Azienda Spaziale Italiana) - Reti Spa - Bosch - Weatherford Spa - Cartorange - Kaeser srl.
Realizations
Banca di Rimini - Privat convention , prouction show of Enrico Brignano
Theatrical production "Adamo e Deva" with Vito and Claudia Penoni
Theatrical production "Ma voi come stai" with Anna Maria Barbera
Organization and logistic tour of "Felicemente Stressati" by and with Terenzio Traisci
Dear Planner
Dear Planner or Event manager
we think that every idea can be realized, and it can be transformed into a perfect and successful event.
We believe in teamwork and our purpose is to help clients to create a memorable event.
Call us in order to better know what we could do for you.
We'll be pleased to answer all your questions.
Patrick Contarini,  CEO of Spettacoli.Pro
Thanks you for the great team work and for the nice evening that you made me and to all of our partners, friends and clients and to the professionalism that you showed. You have made such an important evening for our company special.
Finally I wish you a good continuation of the year and I hope that there will be new opportunities to celebrate.
Domenico Morozzi
General Manager - Capri
I would like to confirm the satisfaction of Mr. Alessandro Malavolti for yesterday's great evening in which a big credit is to be attributed to Mr. Pizzocchi. He liked it so much that he'd like to add a guest also on our classic summer barbecue, which will be on July 15th.
We'll contact you in a month so that you can suggest us some artists appropriate for the occasion.
Stefania Rabitti
General secretary - AMA Spa
I would like to congratulate and thank you for participating in our first functional offsite. Although you only had 3 hours, you dropped down quickly in the team and you know how to grasp its dynamics.
In just three hours of work you've been able to lower your stress levels - the test does not lie! - and you have touched central themes, and confirmed fundamental elements in our growth path. It's great to see your team smiling cheerfully in a business meeting! A hug and thank you again!
Guido Strampelli
Chief Financial Officer - Montenegro Srl
See Also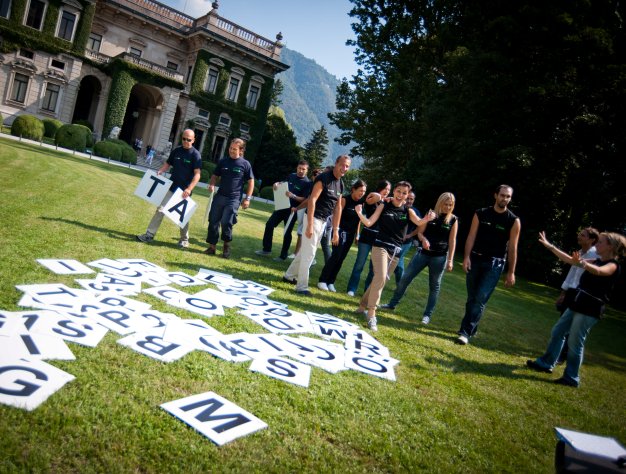 Meeting Planning / Entertainment/Free time / Corporate Training / Teambuilding/Incentive
Operating in: Whole Italy
Entertainment/Free time
Operating in: Northern Italy / Central Italy
Event Technologies / Entertainment/Free time / Others
Operating in: Whole Italy