The summit of 13 European Heads of State and Government on the Western Balkans situation was held in Trieste on July 12.
The topic of the important meeting between 13 Heads of State and Government was the integration of Western Balkans states in the European Union. Speakers included Foreign Ministers, Ministers of Economy and Ministers of Transport of each state, the High Representative of the European Union for Foreign Affairs Federica Mogherini, Commissioner for European Neighbourhood Policy & Enlargement Negotiations Johannes Hahn, Commissioner for Transport Violeta Bulc, and representatives from International Financial Institutions.
The summit took place at Palazzo della Regione Friuli Venezia Giulia, at the Prefecture of Trieste, and aboard the Navy school ship 'Palinuro'.
Tecnoconference Europe-Gruppo del Fio provided the necessary technological equipment, including the latest advanced simultaneous interpreting systems (into 10 languages), and a CCTV connection between the 3 locations. In the four listening rooms, participants were able to see the live-streaming of the summit between the 13 Heads of State.
An integrated Autodome camera system also provided closed-circuit images of the trilateral meeting aboard the sailing ship Palinuro between Italian Prime Minister Paolo Gentiloni, French President Emmanuel Macron, and Chancellor of Germany Angela Merkel for the interpreter cabins.
Over 100 audio and video outputs were supplied to accredited journalists and televisions by Tecnoconference Europe.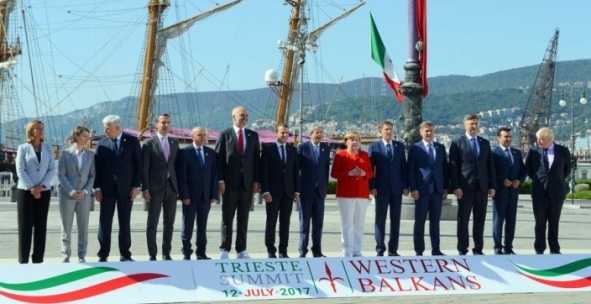 Tecnoconference Europe – Gruppo Del Fio is one of the major suppliers of technological products for events in Central Italy. Besides audio-visual systems and equipment, they provide a complete and thorough service: from a creative project idea, to the idea development, to the set design planning, to the technical production.