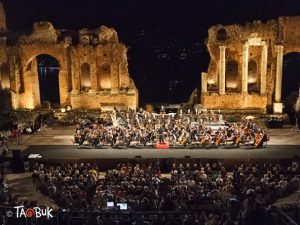 The 7th edition of the Sicilian festival from June 24th to 28th 2017.
Taobuk, the International book festival, this year at its 7th edition, takes place in Taormina from Saturday June 24th to Wednesday June 28th 2017.
It deals with books and the dialogue between literature, cinema, music, theatre, visual arts, the great journalism and food and wine. The topic of this year is "Fathers and Sons".
During the four days writers, journalists, philosophers, artists, influencer coming for Italy and abroad will be the protagonists and the guest speakers of meetings, round tables, music and shows, readings, photo exhibitions…
The inauguration of Taobuk 2017 is on Saturday June 24th at 8.30 pm in the wonderful Teatro Antico in Taorimina.
In the previous editions, Taobuk registered more than 130.000 participants, organizing more than 400 events in more than 30 places of the city. It has welcomed 600 guests and involved 580 classes and 80 schools, for a total of about 8.000 students.
Taobuk is created and directed by Antonella Ferrara.