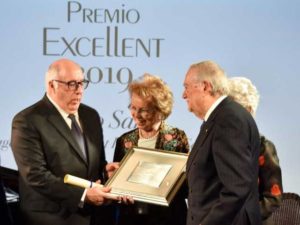 During BIT, the 24th edition of Excellent Award Ceremony recognized the best Italian hotel industries
Punctual as every year, during BIT the Italian hotel industry gathered for the glamorous appointment of Excellent Award reaching its 24th edition in 2019.
The event, conceived by Mario Mancini, Communication Agency President, aims to recognize and reward every year entrepreneurs and managers who committed to encouraging Italian tourism and hotêllerie.
This year's winners:
Alessio Lazazzera, Excelsior Hotel Venice Lido Resort General Manager,
Elisabetta Fabri, Starhotels President & CEO,
Giuseppe Marchese, Ragosta Hotel Collection Rome Cluster General Manager,
Onorio Rebecchini, Convention Bureau Rome and Lazio President,
Marco Sarlo, Royal Hotel of Sanremo Management Consultant,
Roberto Wirth, Hotel Hassler Owner and General Manager in Rome,
Gloria Armiri, Group Brand Manager IEG
Alessandro Martini, Marca Treviso Tourism Promotion Consortium Director who hosted MPI Italia Chapter annual convention in 2018.
Curtain call for everyone and a warm farewell to 2020 to award other Italian excellence.
(in the cover picture, Marco Sarlo collecting the award for Royal Hotel Sanremo)