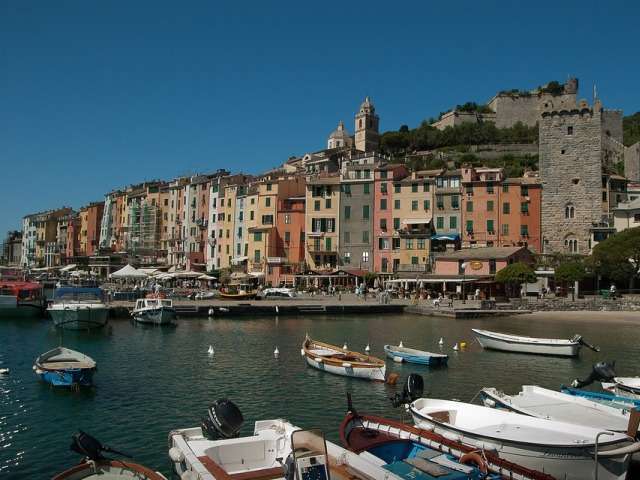 Visits to oyster farms and mini-cruises in the Gulf of Poets.
Grand Hotel Portovenere offers planners two eco-friendly cultural opportunities to enhance their meetings by offering unforgettable experiences while discovering the local area, its history and economy.
Both activities take place on boats in the beautiful Gulf of Poets in the Cinque Terre. These unusual and fun trips are organised in partnership with Associazione per il Mare, which carries out educational activities in the area.
Oyster farms visits
After a relaxing cruise around the islands of Palmaria, Tino and Tinetto, the boat will steer offshore, towards the oyster farms. Here, a guide will explain the oyster farming procedures that have been employed in the Gulf of Poets since the end of the 19th century. The 4-hour long excursion will end in a happy hour with oysters, focaccia from La Spezia, and white wine from Cinque Terre.
Mini-cruise in the Gulf of Poets, with music and poetry aboard the "Moby Dick"
The Moby Dick is an old wooden fishing boat that now carries visitors on mini-cruises along one of the most beautiful coasts in the world, the one between Portovenere and Lerici.
On board, guests are entertained by guitarist Filippo Lubrano and poet Manuel Picciolo, who present poems and songs written by artists such as Byron, Montale and Gino Petroni, whose art was inspired by these shores. The pieces are performed in Italian, English and Ligurian dialect, and accompanied by the guitar.
The two activities can be booked until November 3, when the hotel closes for the winter season.
For more information
tel. +39 0187 777751
email >>>
The venue
Grand Hotel Portovenere, located in the most fascinating spot of the namesake UNESCO world heritage town, has 3 meeting rooms and 48 bedrooms. Palmaria Restaurant has a breathtaking terrace that overlooks the sea, and also offers gluten-free menus.
Grand Hotel Portovenere is the only hotel with meeting halls in Portovenere.