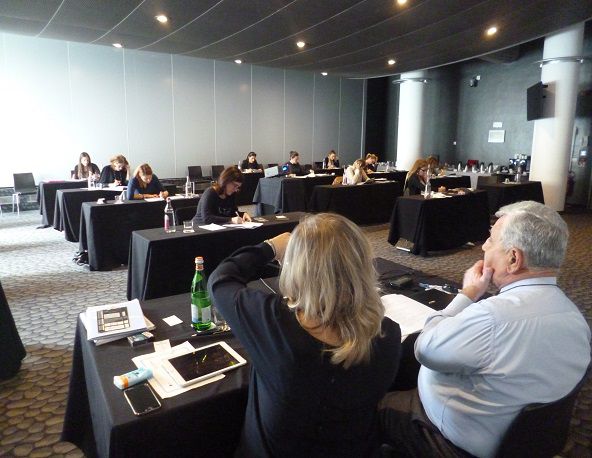 Milan October exam session for operators of the Meeting Industry is officially over.
MPI Italia Chapter carries on with its training and certification program addressed to professionals of the meeting & event industry. The project aims to enhance Italy's international credibility in the meeting industry. The examination grants the internationally recognized CMM – Certificate in Meeting Management.
With the last October session in Milan, seventy-three people have obtained the certification and eight more people have already applied for the next sessions.
MPI Italia Chapter was recognized as "Ente Formatore" (Professional Training Institute) by the Ministry of Economic Development and keeps a register of professionals, technicians and certified professionals. MPI Italia is the only Italian professional association of the meeting industry to have earned this achievement so far.
"Our goal is to improve the professional competences of the operators of our meeting industry in order to reach international standard levels. This is why we have strongly supported this project", MPI Italia President Giovanna Lucherini said.
Contents, materials and exam programs have been developed in Italian by Rodolfo Musco and are addressed to those who work in the meeting industry.
Meeting operators are divided into three groups: Meeting organizers, specialists and technicians. Accordingly, there are three types of certifications:
1) Certified Meeting Executive (CME-it), the highest level, for meeting organizers
2) Certified Meeting Specialist (CMS-it), for specialists
3) Certified Meeting Technician (CMT-it), for technicians
The next examination will be held in Rome (January 14) and Naples (March 25).
MPI (Meeting Professionals International) is a non-profit association founded in 1972 to support the meeting industry and its professionals. Today MPI counts on 70 chapters in the world representing 86 countries for a total of almost 17,000 members. The Italian Chapter, established in 1991, was the first European chapter of MPI. MPI is the only association representing all categories of the meeting industry: organizers, suppliers, services, client companies, students.
For further information: MPI Italia Chapter Press Office >>>