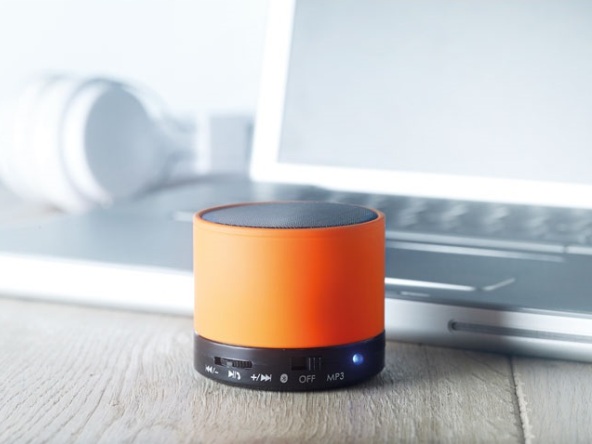 Gadget Personalizzato (Custom Gadget) and 44 different speakers for computer and phone
In the new catalogue 2019, Gadget Personalizzato (Custom Gadget) proposes 44 different speakers to connect to your phone or to your pc that can be customized with the company logo.
You are spoilt for choice:  wired and Bluetooth models differing in material, shape and colour:
-rounded or squared with a fabric cover
-football speakers
-ABS speaker with metal finishing
-with induction technology, once the phone is put on the speaker, it is activated automatically
-with a colour-changing ambient light
-floating speaker for swimming pool or Jacuzzi with multicolour led
-waterproof shower speaker with a suction cup
-sunglasses with wireless speaker
-radio-shaped with remote control
-with alarm clock
-wireless headphones that transform into a speaker with built-in microphone that allows you to answer calls
-speaker water bottle, ideal for sports companies.
The minim quantity depends on the models and for some models, it varies between 10 to 25 pieces so as to give the chance to offer this kind of gadgets also in small meetings.
What about the price? Mini sound speaker can be purchased starting from 6,12 € + VAT, customization excluded.
Customization costs vary from about 1 €  for minimum quantities and 1 colour pad printing, the most precise and accurate technique to print even small details. Personalized reduction and quotation for large quantities.
You don't know what to choose? Need any help?
1- Bluetooth squared Rock speaker with fabric and rubber cover is both elegant and practical. So many fashionable colours and a convenient quality-price ratio.
2- waterproof Bluetooth speaker allows you to listen to your favourite music while showering.
3- USB and speaker multipurpose lamp is one of the latest products. 32 LEDs lamp with three intensity settings, 2,5 W wireless speaker and USB door to charge your phone or your tablet.
Gadget Personalizzato (Custom Gadget) has a vast catalogue with company gadgets picked and updated according to the latest market trends: traditional, technological, eco-friendly and original gadgets. A whole section is dedicated to green and "Made in Italy" gadgets, very attentive to quality standards and to the quality/price ratio.
See the catalogue >>>