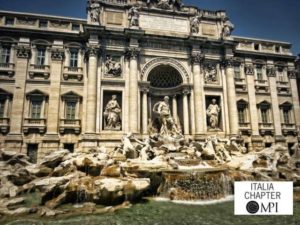 From July 5th to 7th the MPI Italia Chapter Convention in Rome, open to all MICE professionals.
Rome will be the location for the 28th Annual Convention of MPI Italia Chapter, taking place from July 5th to July 7th, 2019.
On this occasion, it will be celebrated the partnership between MPI Italia Chapter and the Convention Bureau Rome and Lazio Region, already disclosed by MPI VP Luca Vermengo to CB members during the assembly dated 17 January.
Onorio Rebecchini, President of Convention Bureau Rome and Lazio Region, shows his delight both for the choice of the location and for the promising partnership: "This collaboration is not limited to the days of the event but it foresees a series of activities where the Convention is just the last act. We want our reciprocal support to be a beacon for the MICE market in Rome and in the territory: venues, architectures, flexibility, efficiency, experts in the hospitality and planning industry".

Elisabetta Caminiti, President-in-Office of MPI Italia,  comments: "Training and Networking are the main points of the Convention. This year we'll have also many opportunities to discuss with the colleagues of CB Rome and Lazio. I am very pleased with how I will end my year of presidency."
Enrico Jesu, President-Elect MPI, is ready to pick up the baton and expresses his optimistic expectations: "First of all, I am very happy about our debut in Rome that, after 17 years, is hosting its first MPI Convention in the Capital. I am also very curious to see how Convention Bureau Rome and Lazio will be able to astound planners with new venues and activities in the city and in the region. Rome, with its central position and its number of high-level experts that adds up to its incomparable symbolic value, can surely contribute to the growth of the Italian MICE industry".
MPI Italia Chapter: founded in 1991, it's the Italian Chapter of the International community MPI (Meeting Professionals International), founded in Dallas, USA, in 1972. The association counts over 17,000 members in 24 countries and 90 chapters. It represents all professionals involved in the meeting and event industry. MPI Italia Chapter has been the first European Chapter. Recently it has been registered with the Ministry of Economic Development. Thus, it can release certifications that are legally valid in Italy under Law no.4 of 14th January 2013.