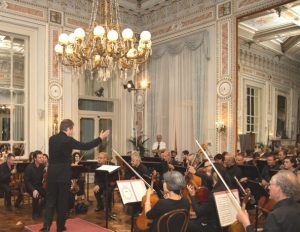 Three important concerts during summer in the Royal Hall of the Grand Hotel.
This year again Bellagio and Lake Como Festival debuts with a concert hosted in the Royal Hall of Grand Hotel Villa Serbelloni in Bellagio (June 29th), a venue very appropriate to the event both for its sumptuousness and for the acoustic quality.
The Royal Hall is indeed an incredible and luxury space, 6 meters high with huge cristal chandeliers hat illuminating the plasters, gold plating and frescos on the ceiling and walls: 270 sqm and a capacity for about 300 people.
At the Grand Hotel the manager is very proud as the Royal Hall hosted performances of many well-known musicians, such as the famous pianist Leslie Howard in 2008, considered the best interpreter of Listz in the world.
Three concerts of Bellagio and Lake Como Festival will be hosted at the Royal Hall of Grand Hotel Vila Serbelloni during summer:
– Thursday June 29th, 9 pm. Orchestra I Pomeriggi Musicali. Music by Haydn, Mozart, Telemann
– Thursday July 13th, 9 pm. Orchestra I Pomeriggi Musicali. Music by Rossini, Pizzetti, Ravel, Prokof'ev
– Thursday August 31st 9 pm. Bellagio Festival Orchestra. Music by Mozart
Free entrance by donation in favor of Associazione Volontari del Soccorso in Bellagio.
The venue
Grand Hotel Villa Serbelloni, a historical 5 star luxury hotel, stands on the tip of the promontory of Bellagio, the lovely little town called also "the pearl of the lake" in the center of Lake Como. It offers clients 95 rooms, two restaurants, 3 meeting rooms, one of which is divisible in smaller rooms, a pool, SPA, big garden at the lakeside, private pier.
Mistral Restaurant is Michelin starred.
La Goletta, is open with continued schedule from Noon until 11 pm.