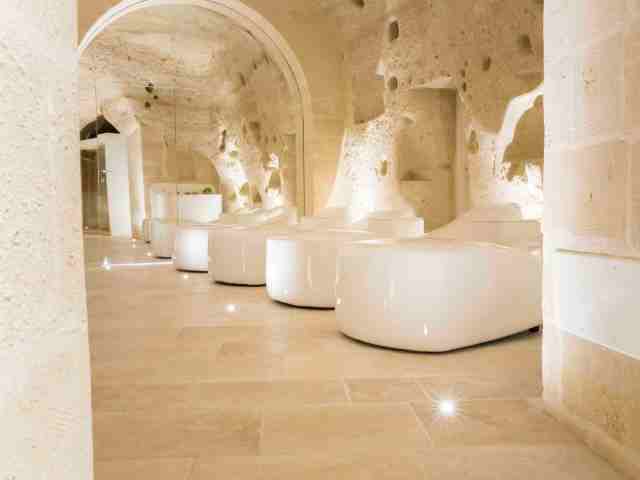 The architectural masterpiece, with 35 bedrooms and a SPA, is Greenblu Hotels & Resorts' 7th acquisition.
The elegant and charming 5-star Aquatio Cave Luxury Hotel & Spa was inaugurated on Saturday, July 7.
Aquatio is laike a small village-hotel set on a ridge in the Sasso Caveoso area in Matera (2019 European Capital of Culture and one of the 10 oldest cities in the world), which dates back to the 13th century. It's located in the centre of the Sassi and close to the city's main square.
Built on an area of about 5,000 m², the hotel presents itself as an enlarged home, based on the "Sassi Village" model. The natural and historical aspects of those ancient accommodations can be found in the use of outdoor spaces, called "vicinati" (neighbourhoods), that can be employed for events and gatherings.
The 35 bedrooms, all different from one another, are embedded in the ancient caves' tuff walls, but offer modern utilities and furnishings, as well as all the latest technologies. Windows, courtyards and terraces allow guests to enjoy the unique and continuously changing landscape.
Almost all rooms have access to breathtaking indoor routes carved in the Sassi, which lead to the hotel's central area, consisting in the hall, the restaurant and the Spa.
The Spa is located in a 9th century-hypogeum in the heart of the hotel. The 50 ancient tanks discovered during the renovation works have been turned into wonderful corners and areas for beauty treatments, with ergonomic massage beds, Turkish bath, sauna, tea corners, and a pool entirely carved into rocks.
The restaurant with outdoor courtyard offers the chance to dine right in the centre of Sasso Caveoso, surrounded by history.
Aquatio also has a 50-seat multipurpose room.
Vincenzo Gentile, CEO of Greenblu Hotels & Resorts, said: "We are proud of what we have accomplished here in Basilicata, as well as in Apulia. We have given new life to hotels and villages that showcase the area they're in and its traditional characteristics. We are promoting Matera, Apulia and the Lucanian coast as tourist destinations, and, thanks to our Mice offer, we contribute to their popularity in the off-season as well."
Greenblu Hotels & Resorts specialises in developing tourism, sports, entertainment, leisure, culture, as well as meetings, conventions, events, incentives in Apulia and Basilicata. With the inauguration of Aquatio, the hotels managed by Greenblu are now 7.
In Basilicata:
– Aquatio Cave Luxury Hotel & Spa, 5-star hotel in the Sassi di Matera; 35 bedrooms and a meeting room for up to 50 people;
– Marinagri Hotel & SPA, 5-star hotel in Policoro (MT); 95 bedrooms and suites, 4 restaurants, a Spa, and 4 meeting rooms for up to 350 people;
– Argonauti Sea Life Experience, 4-star resort in Marina di Pisticci, on the Lucanian coast (MT); 220 bedrooms, 97 apartments, 6000 m²-outdoor pool, sports centre, outdoor gym, soccer pitches, tennis courts, and a 500-seat congress centre. Opened on May 31, 2018.
In Apulia:
– Borgobianco Resort & SPA, 5-star hotel in Polignano a Mare (BA); 48 bedrooms surrounded by nature and a plenary meeting room for up to 150 people;
– Torre Cintola Natural Sea Emotions, 4-star resort in Monopoli (BA); 283 bedrooms, private beach, 2 restaurants, 2 lounge bars, 2 pools, and a 600-seat congress centre;
– Cavaliere Urban Hotel, 4-star hotel in Noci (BA); 33 bedrooms and a meeting room for up to 140 people;
– Ticho's Hotel, 4-star hotel in Castellaneta Marina (TA); 92 bedrooms overlooking the sea.