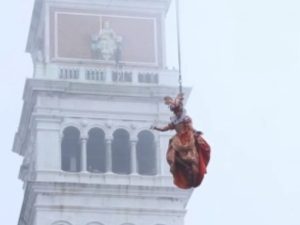 As tradition requires, a pretty girl will fly above St Mark's Square
Every year, the Flight of the Angel ("Volo dell'Angelo") opens the famous Venice Carnival, which this year takes place from February 16 to March 5, 2019.
As usual, a girl will fly along a rope from the St Mark's bell tower to the stage set up in the middle of the square.
This event – rooted in the history of the ancient Republic of Venice – dates back to 1500, when a Turkish funambulist first walked on a rope suspended between a boat docked at the St Mark pier and the square's bell tower.
For over half a millennium, the Flight of the Angel has left and continues to leave its audience breathless.
The Hilton Molino Stucky can offer its guests a priceless time during the Carnival, as well as customised outfits inspired by the Venice Carnival and the Venice Film Festival, the two most important events in the city.
The venue
Hilton Molino Stucky Venice, with its 379 rooms and suites, is the largest hotel with a convention centre in the Venice Lagoon. It has 14 meeting rooms and a ballroom that can accommodate up to 1,000 people.
Its 8 bars and restaurants, the second largest SPA in the city, and its rooftop pool, which offers one of the best views in Venice, make the hotel the perfect venue to meet all kinds of needs.