It is a different world with nothing to do with the special effects used in the cinema industry, in TV or in the videogames, but it has nothing to envy them.
The highlight of a corporate convention often is represented by the launch of something new. This "introduction" has today a great importance because it can determine the immediate success of an event in addition to the perception of the novelty and the interest that it can stimulate in the public. Traditionally, the utmost creativity and the strongest communicational effort are put in these moments by the event's organizers: from the ancient drum roll to the increasingly sophisticated modern special effects. It's what's called, in jargon, the "reveal moment", the moment of wonder, when an astonished "oooooh" spreads across the room. But the competition in the "market of astonishment" is getting fiercer and broader, everyone wants to amaze so it's natural to ask: "is it still possible to create amazement and wonder today, after cinema, tv, advertisement and video clips showed us everything? Is it possible to get used to it? Will the live special effects ever be able to compete with the really expensive ones realized for these medias?"
Up to a few years ago, the incredible prices of some pieces of equipment made a comparison absolutely impossible, but nowadays it's not like this anymore. Today live special effects can, at an affordable price, turn an event into an extraordinary and unforgettable memory. And most importantly they made a unique, exclusive and thrilling technological stock available. It can realize effects that, since live, are so much better than anything a movie or videogame could ever offer us. Unique live emotions. The most advanced technologies to realize live special effects today are:
live projection on different supports
3D holograms
megaprojection on enormous surfaces
and the various combinations among these techniques. For example:
Laser. A laser can be projected on every surface, also outside of the traditional screens. Its precise line, thin and bright can reproduce a drawing, a brand, a writing at a distance superior to any projector being on focus even on different levels. With a bit of artificial smoke, in a dark space you can create magical three-dimensional volumetric effects, ie. cones, tunnels, levels and light fans, halos and so on. When music is added it turns into a real lasershow. You can also project logos, writings or drawings on an invisible tulle screen that will make them appear floating in the air or on a water screen(a really thin waterfall) that can be pierced by real object (ie. a car)
Holograms. The hologram is pure magic. We are talking about a particular kind of three-dimensional projection that consents the "materialization" of a person or a product. The "apparition" can be set inside an exhibition stand or on a stage. This effect is really astonishing, almost incredible: it's an optical illusion that uses a "black box" , a video image (fixed or moving) partially mirrored by specific crystal screens of semi-mirroring pellicles. You can even represent people who are not physically present to the event and interject with them. The hologram can be used didactically to represent an object the shape of which we want to highlight or parts that are hardly seen to the naked eye, ie. the inside of an engine, an organ of the human body, a molecule. It is ideal for scientific conventions.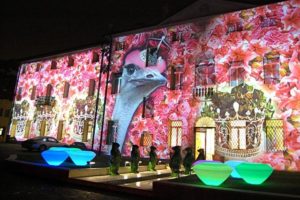 Megaprojection. Incredibly powerful projectors can transform the walls of a room ideally moving the audience in another dimension or in an dreamlike environment, or simply changing the atmosphere with suggestions or emotions linked to the theme of the event or the story we are telling. During a gala dinner we can move our guests to Venice or Las Vegas, with a dancers show, game tables with virtual fiches, and we can interact the projection with live scenes. Another idea could be to project on the façade of an hotel or of an historical palace the logo of the Company or more simply the "mood" of our event. Breath taking!
Assisting to one of these performances, or to be more precise, being a part of them, it's a very strong unforgettable emotion. To see a magic realized on our brand, with our product, in our places and just for us gives the participants a very strong pride of belonging, a sense of strength and the awareness that our company and our team are really on the cutting edge. And that's a lot!
2010, July