The techniques and logic of "guerrilla marketing" may also be used for the organization of a corporate event to increase its effectiveness. A brilliant idea, but please… be careful!
Guerrilla marketing has recently begun emerging in Italy as a new communications strategy for many companies. Being a "new" tactic its advantages and the risks that go along with its misuse are not fully understood. For this reason, when proposing to use this in a conference, we recommend a rational and in-depth approach.
Guerrilla marketing is a flexible methodology that can improve the success of any business event, particularly since it is capable of creating a memorable event; one that is closely linked to the emotions evoked in the participants. Although the term "guerrilla" makes us think of ambushes and sabotage, the heart of its effectiveness lies more in the ability of the guerrilla groups to be able to come to a consensus on military action. A good guerrilla campaign not only obtains practical results (military objective), but also transforms them into another opportunity for communication and consensus (political objective).
In the case of marketing: memorability and newsworthiness along with remembrance and narrative. Ingredients required: unexpected creativity, unpredictability and a surprise result.
To explain better let's use an example that went wrong. April 2008, the Telecom convention. The video of a passionate manager on the "victory of Napoleon at Waterloo" became a viral product played on TV and shown in the pages of the major Italian newspapers. That video transformed the company convention into an occasion for external corporate communications for Telecom, but unfortunately it was negative because that involuntary creativity painted the company as incompetent and inaccurate. Yet this kind of momentum could be built and planned with intelligence in order to achieve positive results and double the effectiveness of any convention. In short: strengthening the sense of belonging to the group and/or adding an additional value of visibility for the company.
There are three instances when guerrilla marketing strategies can be applied profitably to business events.
1. The invitation
The phase of announcing the event to the participants almost always follows a standard procedure: communication, invitation and pre-registration. It is possible, however, to think of a way to tease the participant or, in other words, to heighten the participant's curiosity in advance, without revealing the nature of the event. Imagine for example, instead of using traditional paper invitations or e-mail, using some kind of puzzle that challenges the recipient's intelligence in order to find out what you are planning. With an invitation (or pre-invitation) of this type, it's easy to create anticipation for the event, while maintaining a more serious perception.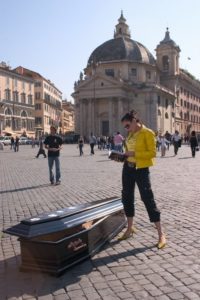 2. The event
This is the phase that is most suitable for unexpected actions. The French philosopher Paul Virilio speaks of incident as an archetype of contemporary culture. An incident is something that disturbs the daily course of events and somehow ends up giving them greater sense. Just think of the phenomenon of the streakers, those exhibitionists who invade sports fields in the nude. Their mere presence can turn a minor sporting event into major news. What if a streaker appeared in the middle of a convention? It is not advice to be followed blithely since it is a rare case where a streaker can work in harmony with the corporate image, but other types of incidents can offer a higher rate of memorability and newsworthiness, and thus a more sharp and engaging memory.
3. Follow-up
Those involved with conferences or business meetings know that it is important to follow the event through the various forms of follow-up. Gadgets, trophies, videos or photos posted in the days following the convention can strengthen team spirit and reinforce the memory of the event. Even here you can imagine, with guerrilla creativity, different non-conventional types of follow-up, capable of exciting and/or entertaining the participant or, even better, pushing them to strengthen contacts with other participants for unlikely and unexpected reasons.
These examples are simple suggestions. The best results are obtained when thought and guerilla creativity are woven through all phases of the project and, especially, when they work together with the objectives that the event aims to achieve. In this way, guerrilla marketing can be of great added value, exceeding the normal results of any internal event and making the company excel by strengthening its image.
2010, June