Five tips that may be useful for planners in many different situations.
The preparation of an interesting seminar I took part in as moderator gave me a useful feedback on some recurrent critical points in the organization of an event and provided valuable input to improve the final result.
I summarized the outcome of this discussion in five good tips.
1 – Train the speakers
Boring speeches are a real risk. A speaker who simply reads the slides is the typical example of a dull and ineffective speech. In that case, a meeting designer ought to intervene. If the participation of a weak speaker can't be avoided, stay one step ahead: don't ask them to do something they are not capable of. One possible solution is to film the speech in advance and then edit it in order to make it more effective. After the video, you should set up a live Q&A session, during which the speaker will be definitely more brilliant and spontaneous. Knowing the content and the speakers in advance is the only way to find the most effective solution. The question to ask is: "how can I organize and present the contents to get the attention of the audience?". To sum up, the more alternatives you have, the less boring the monologues will be.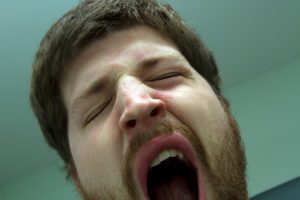 2 – Deal with unexpected events in a transparent way
As much as you are prepared, an unexpected event cannot be foreseen. The only thing to do is to always be ready to deal with them, keeping in mind that your goal is to keep the attention and the comfort of the participants. People love transparency, so try to be flexible and embrace the unexpected event with an original and proactive reaction that will enhance the chance of success of the meeting. Dealing with an unexpected event in a candid way generates empathy; by contrast, if you try to deny an obvious mistake you will only get a negative reaction.
3 – Things can always get better
Periodic events often follow the same well-oiled schedule, especially if it has proven successful. Unfortunately, resting on your laurels can dangerously transform success into routine. These meetings are usually comfortable in their predictability: everybody is satisfied at the end of them, but it doesn't mean that the meeting couldn't have been more effective. More work can be done in this regard. Making the participation more interactive is usually the right way. Memories are fixed by emotions. An activity made with other people influences our emotions and solidify our memories. By using a meeting design methodology based on a trial-and-error approach, it is possible to identify the areas that can be improved. The questions to ask are: "what kind of experience do I want to offer? How can I adjust the contents to obtain this particular experience?". A well-structured meeting design methodology can improve already solid programs too.
4 – Everybody likes experiences
Nowadays it is not uncommon to see delegates belonging to four different generations in the same room. How is it possible to prepare a suitable program for everybody? Millennials have frequently been labelled as obsessed with technology. But that is not true. A research by a German institute, the Fraunhofer institute, found out what young people really expect of a meeting. Surprisingly, it isn't technology. Of course, they want to use smartphones and apps to communicate, but what do they exactly look for? One word: experiences and emotions. Young people don't want to sit in a room listening to a know-it-all. And the same goes for older generations. Everybody prefers authentic experiences. Emotions induced by experiences create valuable memories.
5 – Create pertinent experiences
I recently took part in the organization of a conference for the Dutch Health Ministry. The event was about the issue of medical assistance for old people and its goal was to identify a list of priorities. During the break a quartet performed. All the musicians were older than 75 years old. Next to each of them there were their medicaments. This gimmick created a very authentic connection between the delegates and the meeting content. It was a slice of real life. This should be the soul of every meeting. By using a global and holistic approach, the planner can connect with the participants on a deeper level and they, too, can better connect with each other. Connecting emotions, contents and significant moments is the task of a good meeting designer.
2016, May